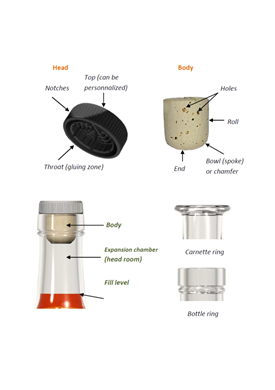 Recommendations
BASIC RULES TO FOLLOW

Storage area of the corks:
A clean, well-aired area, no contact with bad smells, dust or external contamination.
Storage conditions of the corks:
T° of 15°C to 25°C in order to preserve, in particular, the surface treatment of the body and the sticking capacity of the glue.
RH between 40% and 65%. Too dry an atmosphere may make the corks brittle.
Excessive humidity will result in the appearance of mould and make it easier for undesirable tastes to develop.
Duration of storage for optimal use :
6 months after the date of despatch, subject to respecting the storage conditions mentioned above. Beyond that, the efficiency of the surface treatment (paraffin or silicone) may be impaired.
Expansion chamber:
Choose the glass carefully and make sure that you have an expansion chamber of 3,5% after corking in order to limit the risks of the cork rising back up, leaks, or a deterioration in the body…
Also pay attention to the position of the expansioin chamber which, if it is horizontal, will make contact between the liquid and the body easier, a possible source of problems.
Delay before uncorking for the first time:
24 h so as not to cause breaking the cork.
Storing and transporting the bottles :
Always store and transport your bottles in an upright position (including when they are with your traders or distributors) and always prefer storage areas with the least exposure to heat.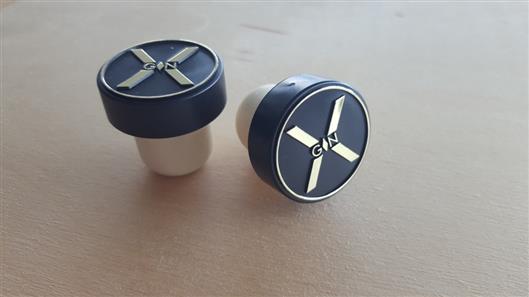 TP Plastic head with own logo
LOGO EMBOSSED WITH HOT FOIL PRINT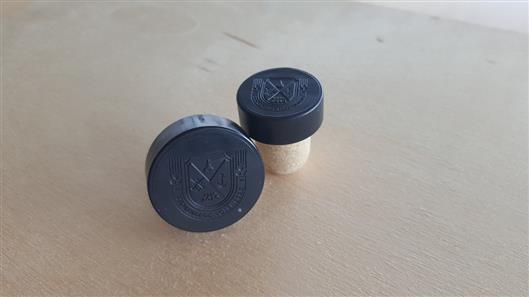 TP Plastic head with own logo